18: 47
The US has reportedly carried out an airstrike in Syria, Reuters reports.
From Reuters:



The United States on Thursday carried out an airstrike in Syria against a structure belonging to what it said were Iran-backed militia, two officials told Reuters.

The strike comes after a series of recent rocket attacks against U.S. targets in Iraq.

The officials, speaking on the condition of anonymity, said the strike was approved by President Joe Biden.
The Guardian has not confirmed this reporting.

18: 43
On Fox News, Mitch McConnell evaded questions about Donald Trump – but said he'd "absolutely" support the former president if Trump were the party's presidential nominee in 2024.
'There's a lot to happen between now and '24," he added, noting that at least four Senate Republicans were vying for the nomination. McConnell voted to acquit Trump on the charge of inciting the Capitol attack but nevertheless said that the former president was "practically and morally responsible" for the deadly riot, and hinted that Trump's actions should be open to criminal prosecution.
Here's more on McConnell's contradictory statements on Trump following the impeachment trial:
Updated


18: 26
What we know about the California coronavirus variant
Two new studies suggest that a Covid-19 variant first discovered in California has been spreading rapidly through the state.
The findings come as the US ramps up its efforts to track and catalogue various forms of the mutating virus, and raise fresh questions about the circulation of the coronavirus in the country.
What is the California variant?

The variant, which is called B.1.427/B.1.429, first caught the attention of scientists in November 2020 and belongs to a lineage – a branch of the coronavirus family tree carrying similar mutations – that is thought to have emerged in May.
The variant has been detected in 19 countries, and all across the US, though limited surveillance has found it concentrated in California.
The variant has three mutations that alter the shape of a protein, called spike, on the surface of the coronavirus. Other variants, including the ones first discovered in the UK, South Africa, and Brazil, also have mutations on their spike proteins. Researchers are concerned that these changes could make it harder for the immune system to quickly recognize and block the virus.

Why are we talking about it now?
Scientists around the world have been tracking Covid-19 variants by scanning samples taken from people infected with the virus. The US has been lagging behind other countries in doing this kind of monitoring – and still is. But some labs, including at the University of San Francisco, California, have recently redoubled efforts to figure out which variants are most common in the state.
While looking through samples from positive coronavirus tests to see if B.1.1.7 – the variant first detected in the UK – was circulating in the state, the USCF researchers realized that a different, homegrown variant actually accounted for a growing proportion of infections. Another team in Los Angeles found that that variant was spreading there as well.
Read more about the latest research, and what it all means, here:

17: 54
Joe Biden spoke at the National Governor's Association meeting.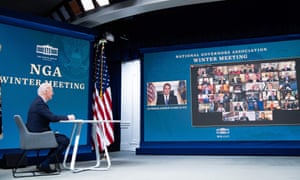 Governor Andrew Cuomo of New York spoke prior to Biden, welcoming the president to the Zoom meeting. Cuomo, who has been under fire for excluding thousands from the state's nursing home death toll, said to Biden: "You reached out to us right after your election… Your promise of an ongoing functional partnership has already come to fruition."

"We understand the difficult situation you inherited upon taking office," he continued. "When you went to the cupboard, it was all but bare."
Biden's remarks focused on the monumental task of distributing vaccines and coordinating an economic recovery plan.
"This cruel winter is not over," Biden told the governors in attendance. But he signaled that "a hopeful spring" was coming.
"We need to be more ambitious right now," Biden said of his Covid-19 relief plans. "Red state, blue state, millions of Americans are hurting badly."
The president has been working closely with governors of both major parties – with a special focus on Republicans – to raise political support for recovery plans. Facing resistance from Republicans in the Senate and Congress, Biden has focused on courting governors in hopes they might pressure national representatives from their states to help secure much-needed economic relief.

17: 51
Outrage as Marjorie Taylor Greene displays transphobic sign in Congress
Miranda Bryant
The Republican extremist congresswoman Marjorie Taylor Greene attracted widespread condemnation – from transgender groups, Democrats and her own party – after she hung a transphobic sign outside her office in response to fellow congresswoman Marie Newman raising a transgender pride flag.
The Georgia congresswoman put up the poster – which read "There are TWO genders: Male & Female. Trust The Science!" – after Newman, whose daughter is transgender and whose office is opposite Greene's, hung the flag on Wednesday following an impassioned debate on the Equality Act, which Greene tried to block.
She has also called the bill "an attack on God's creation" and refused to refer to Newman's daughter as female.

Despite Greene's attempts to delay a vote on the legislation, which would extend civil rights protections to LGBTQ+ people, it is expected to pass in the House, after which it will move on to the Senate, where it could face a filibuster. Joe Biden has said if it passes he will sign it into law.
Speaking on the House floor this week, Newman, who represents Illinois, said: "The best time to pass this act was decades ago. The second best time is right now. I'm voting yes on the Equality Act for Evie Newman, my daughter and the strongest, bravest person I know."
After the debate, Newman tweeted a video of herself putting out the flag. She wrote: "Our neighbour, @RepMTG, tried to block the Equality Act because she believes prohibiting discrimination against trans Americans is 'disgusting, immoral, and evil'. Thought we'd put up our Transgender flag so she can look at it every time she opens her door."

Greene, who has a history of supporting dangerous conspiracy theories, including QAnon, wrote in response: "Our neighbour, @RepMarieNewman, wants to pass the so-called 'Equality' Act to destroy women's rights and religious freedoms. Thought we'd put up ours so she can look at it every time she opens her door."
The incident was widely condemned, with the Illinois Democrat Sean Casten branding the poster "sickening, pathetic, unimaginably cruel". He added: "This hate is exactly why the #EqualityAct is necessary."
Read more:
Updated


17: 14
Bernie Sanders: US sick of subsidizing 'starvation wages' at Walmart and McDonald's

Dominic Rushe
US taxpayers should not be "forced to subsidize some of the largest and most profitable corporations in America", Bernie Sanders told a Senate hearing on Thursday.
As Congress debates the first rise in the minimum wage in over a decade, the Vermont senator said he had "talked to too many workers in this country who, with tears in their eyes, tell me the struggles they have to provide for their kids on starvation wages" even as the chief executives of companies including McDonald's, Walmart and others take home multi-million dollar pay packages.
Executives from Walmart and McDonald's were invited to the hearing, titled Should Taxpayers Subsidize Poverty Wages at Large Profitable Corporations?They declined to appear.

The senators heard from low-wage workers from McDonald's and Walmart. Terence Wise, a McDonald's employee from Kansas City, Missouri, said his low pay had led to his family becoming homeless.

"My family has been homeless despite two incomes. We've endured freezing temperatures in our purple minivan. I'd see my daughter's eyes wide open, tossing and turning, in the back seat. Try waking up in the morning and getting ready for work and school in a parking lot with your family of five," said Wise.
"That's something a parent can never forget and a memory you can never take away from your children. You should never have multiple jobs in the United States and nowhere to sleep."
Read more:

17: 00
Today so far
That's it from me today. My west coast colleague, Maanvi Singh, will take over the blog for the next few hours.
Here's where the day stands so far:
Joe Biden celebrated the distribution of 50 million coronavirus vaccine doses since he took office last month. At an event this afternoon, the president emphasized Americans must remain vigilant about limiting their risk of contracting coronavirus. "This is not the time to relax," Biden said. "The worst thing we can do now is let our guard down."
The House passed the Equality Act in a vote of 224 to 206. The legislation, which would prohibit discrimination on the basis of someone's sexual orientation or gender identity, faces an uncertain future in the evenly divided Senate.
Biden spoke to Saudi Arabia's King Salman today, the White House announced moments ago. The call comes as the US government prepares to release an unclassified report on the murder of journalist Jamal Khashoggi, which has been blamed on the Saudi crown prince, Mohammed bin Salman.
The Manhattan district attorney's office has obtained Donald Trump's financial records. The news comes three days after the supreme court rejected Trump's request to block Cy Vance's office from gaining access to the records as part of an investigation into the former president's business dealings.
The Senate confirmed Jennifer Granholm as the next secretary of energy. Granholm, a former governor of Michigan, was confirmed in a vote of 64 to 35. She is expected to play a major role in Biden's promises to expand renewable energy sources.
The House held a hearing on the security failures that occurred during the Capitol insurrection. Members of a House appropriations subcommittee pressed the acting chief of the the US Capitol Police, Yogananda Pittman, and the acting House sergeant at arms, Timothy Blodgett, on the insufficient preparation for the attack, despite many warning signs that Trump supporters could turn violent.
Maanvi will have more coming up, so stay tuned.

16: 58
Biden speaks with Saudi Arabia's King Salman
President Joe Biden spoke to Saudi Arabia's King Salman today, the White House just announced.
"Together they discussed regional security, including the renewed diplomatic efforts led by the United Nations and the United States to end the war in Yemen, and the U.S. commitment to help Saudi Arabia defend its territory as it faces attacks from Iranian-aligned groups," the White House said in a readout of the call.
"The President noted positively the recent release of several Saudi-American activists and Ms. Loujain al-Hathloul from custody, and affirmed the importance the United States places on universal human rights and the rule of law. The President told King Salman he would work to make the bilateral relationship as strong and transparent as possible. The two leaders affirmed the historic nature of the relationship and agreed to work together on mutual issues of concern and interest."
The call comes as the US government prepares to release an unclassified report on the murder of journalist Jamal Khashoggi, which has been blamed on the Saudi crown prince, Mohammed bin Salman.

16: 42
House passes Equality Act in nearly party-line vote
The House has passed the Equality Act in a vote of 224 to 206, with three Republicans joining all Democrats in supporting the bill.
Republicans Brian Fitzpatrick, John Katko and Tom Reed broke with their party to vote in favor of the legislation.
If enacted, the Equality Act would prohibit discrimination on the basis of sexual orientation or gender identity.
But the bill faces an uncertain future in the evenly divided Senate, where Democrats will need 60 votes to break a filibuster on the legislation.
President Joe Biden has already said he would sign the Equality Act if it can make it through the Senate. "Every person should be treated with dignity and respect, and this bill represents a critical step toward ensuring that America lives up to our foundational values of equality and freedom for all," Biden said in a statement last week.
Updated


16: 27
Trans doctor Rachel Levine testifies in historic Senate confirmation hearing

Ed Pilkington
Dr Rachel Levine, a pediatrician and health official from Pennsylvania, faced a Senate confirmation hearing on Thursday as Joe Biden's nominee for assistant health secretary. The process could see her become the first openly transgender federal official to be confirmed by the US Senate.
If confirmed, Levine, 63, would make history and break several glass ceilings. In a country which still only has a handful of openly trans public officials, she would be the most high-profile, occupying a senior position in the Biden administration with major responsibilities in the pandemic response.
Announcing her nomination last month, Biden said Levine would bring "steady leadership and essential expertise we need to get through this pandemic … She is a historic and deeply qualified choice to help lead our administration's health efforts."
As the confirmation hearing got under way on Thursday Levine faced hostile questioning from some of the Republican members of the Senate. Rand Paul, senator from Kentucky, compared transgender surgery misleadingly to genital mutilation and accused Levine of supporting "surgical destruction of a minor's genitalia".
Levine replied by saying that transgender medicine was very complex. "If I am fortunate enough to be confirmed, I will look forward to working with you and your office on the standards of care" in this field, she said.
Paul was rebuked by the chair of the committee, Patty Murray, for his "harmful misrepresentations".

16: 02
Joe Biden pledged that he would distribute 100m coronavirus vaccine doses over his first 100 days in office.
Today, the president celebrated the distribution of 50m shots since he took office last month. "I'm here to report we're halfway there: 50m shots in just 37 days," Biden said.
The Biden administration has been providing regular updates on its efforts to distribute coronavirus vaccines to states.
Jeff Zients, the coordinator of the White House coronavirus response team, said earlier this week that the administration distributed an average of 1.4m doses a day last week.
That number was slightly down from the 1.7m average doses a day distributed the week before, likely due to the winter storm that affected deliveries in the central US last week.
Regardless, the numbers make clear that the administration is outpacing its goal to distribute 100m shots by late April, which is fortunate given that some health experts have said the White House should set a more ambitious goal.
Updated


15: 40
Joe Biden acknowledged the question on everyone's mind right now is when the country can return to normal.
"I can't give you a date," the president said. "I can only promise we will work as hard as we can to make that day come as soon as possible."
Biden previously said that he believed the country would be basically back to normal by Christmastime, but his advisers, such as the press secretary, Jen Psaki, have generally avoided committing to a timeline.
The president's event to celebrate the distribution of 50m vaccine doses since he took office has now concluded. Biden did not respond to shouted questions from reporters as he left the event.

Updated


15: 35
Biden says 'this is not the time to relax' as vaccinations ramp up
As vaccinations ramp up, Joe Biden emphasized that Americans must continue to take every precaution to limit their risk of contracting coronavirus.
"This is not the time to relax," Biden said. "The worst thing we can do now is let our guard down."
The president encouraged Americans to continue to regularly wash their hands and practice social distancing. Biden added, "For God's sake, for God's sake, wear a mask."
Updated