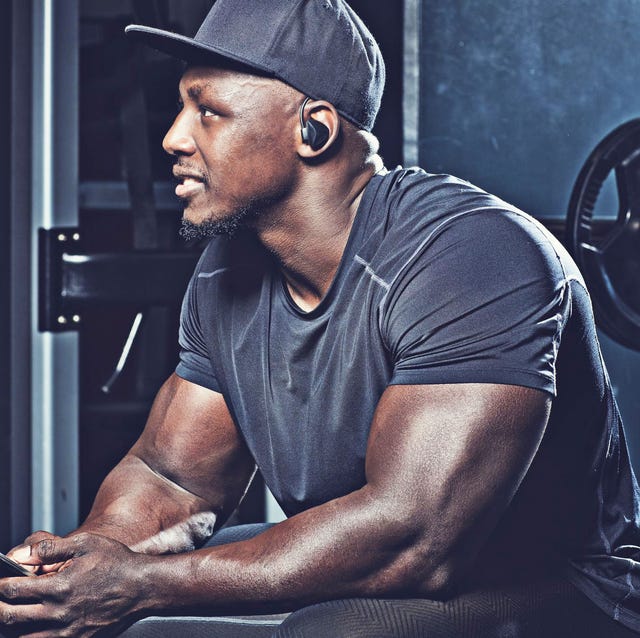 LoradoGetty Images
No gym prep is complete without the perfect playlist.
The tunes aren't just to keep you occupied while you toil away, working to build up your body. Studies have linked music with greater exercise performance, better reaction times, and increased levels of motivation, after all, so keeping the jams pumping is important for your gains. Picking the right mix of songs is key, but if you don't have a dependable means to get those beats to your ears, you'll be stuck on square one.
You can't depend on being able to steal the aux cord at your gym to change the playlist from hair metal hits to your playlist—and you definitely can't break the cardinal rule of public space and play your tunes for all to hear. Especially nowadays amid the pandemic, most people are working out wherever they can find open space and the chances of bringing a speaker along is slim.
For all of this, you'll need a solid pair of workout headphones. While sweat and activity can be a challenge for many types of electronics, there are plenty of great audio options, from the best wireless earbuds to over-ear headphones made for running, that can help you power through your toughest sessions. Brands like Plantronics, Jaybird, Beats by Dre, and Apple all make stellar sweat-proof headphones for all your workouts, including Crossfit.
When shopping on your own, the plethora of workout headphones can seem overwhelming, but remember, everyone has a different want and need. Even those who don't want to spend a fortune can find cheap wireless earbuds and over-ear headphones to suit your workout routine and budget.
Ahead, we round up the 15 best workout headphones, all of which are fitness-focused.
Beats by Dre Powerbeats Pro
The flashiest name in audio doesn't sit on the sidelines at the gym. The greatest from Beats are the PowerBeats Pro, which are the company's first true wireless option and the only earphone outside the AirPods to feature Apple's H1 chip for seamless smartphone connection. Add a sweat-proof design, long-lasting battery, and MH fitness director Ebenezer Samuel's rating of "Superman pushup proof" and you might just have the perfect gym companion. These come in multiple colorways and will be your best headphones for sweating in.
Apple Airpods Pro
amazon.com
$249.00
$199.00 (20% off)
If you're already an Apple AirPods fan, you probably can't remember life without them. That's how exciting it was when they first came out.  The latest version of Apple's AirPods is one giant leap ahead of the originals, especially for working out in. Not only will you get more than 24 hours of battery life in the charging case (something the originals fall short of with use), you'll have a more customizable fit with interchangeable ear tip options. These wireless buds boast seamless connectivity with iPhones, thanks to its intuitive H1 chip. And more importantly the sound quality and noise-cancelling claim drastically improves. Plus, they are water-resistant, so feel free to get sweaty AF.

Nuheara IQ Buds Max
IQBuds MAX come with Nuheara's EarID technology, which uses he clinically-validated NAL-NL2 hearing test through a mobile app to assess a wearer's hearing, allow you to create a personal hearing profile. These earbuds also have tap-touch and gesture control to make adjusting volume a cinch, as well as active noise-cancellation technology to focus on your fitness game. 
Under Armour True Wireless Flash Earbuds
These true wireless earbuds are tough enough for The Rock, so they should be good enough for anyone.
If that doesn't convince you, maybe the specialized JBL sound, IPX7 waterproof/stormproof rating, rugged metal-hinge design, and 10-hour battery life (with an aluminum 40 hour charging case) will win you over. Plus, the winged ear tips lock them and feel like second skin. This tiny design packs a whole lot of punch. If there is anything we like about 2020, it's the technology to create a product like this. 
Bose Sport Earbuds
Bose is renowned for amazing sound, and the company's true wireless earbuds do not disappoint.
The units depend on a specialized EQ and Bose digital signal processing system that works to keep your music at peak performance, no matter how much noise is in the background. The buds also boast an IPX4 waterproof rating, so sweat all you want. The detailed nodule makes these true wireless earbuds the best in the game because no matter how hard you hit, they will stay in place. They come in three different color ways and are on sale now. 
Jabra Elite 85t True Wireless Bluetooth Earbuds
The Jabra Elite 85T are the brand's latest and greatest true wireless headphones that truly live up to their name and have become one of our new favorite workout headphones. In these compact earbuds you'll find everything you need in a headphone. They feature 12MM speakers, 6 microphones for phone calls, over 5 hours of battery life, wind and weather protection, a multi-connect system, and more. With adjustable noise-cancelling settings to find your perfect sound, if there's one set of headphones that have it all, it's these.
JLab Audio Epic Air Sport
If you're looking for the best alternative to the Powerbeats Pro, look no further. This under-$100 option from JLAB brings over 15 hours of playtime and 55 additional hours from the charging chase. We love a smart noise-cancellation system that adapts to the environment and a dual connection so you can use each air bud independently if you please or share with a friend. These over the hear buds bring you all the great features for a fraction of the price.
Bose Frames Tempo
If you want to listen to music or podcasts personally and privately, but absolutely hate the idea of having something in your ear, the Bose Frames Tempo are for you. 
For starters, they feature a high-quality performance sport sunglass with an open ear audio system. This patented design lets you listen to music and your surroundings. The aerodynamic frames are sweat- and weather-resistant, and feature soft silicone nose pad grips for extra comfort with a secure fit. These sunglasses are rugged and durable, making them a great option for runners and cyclists for when they need to be alert and aware of their surroundings. The best part is you can swap out the lenses colors depending on your trek for the day. You can even insert your own prescription frames through Lensabl.  These are the most unique workout headphones on this list.
Jaybird Vista Earbuds
Jaybird's wireless earbuds are fully waterproof and sweat-proof, so you can work out in any weather or condition. (They meet MIL-SPEC STD810G standards.) They also can be adjusted to 3 different sizes for a customized fit. If you always find your buds popping out of your ears, consider these. 
 Plus, they have massive battery life, with up to 16 hours of total charge from the compact charging case. And connecting to your phone is easy with JBS1 true wireless bluetooth technology. 
Aftershockz AS800 Bluetooth Wireless On-Ear
amazon.com
$159.95
$124.95 (22% off)
These wireless bone conduction headphones from Aftershockz bring you similar qualities of the Bose Frames Tempo without the shades. Runners and cyclists especially love this style so they can stay alert of pedestrians, wildlife, and oncoming traffic while working out outside. They send sound through the ear canals with a patented bone conduction technology that delivers audio through the cheekbones. You won't believe it until you try it. 
You get 8 hours of continuous listening, plus they are waterproof and sweat-proof. With over 8,000 near perfect reviews on Amazon, these babies are the lightest Aftershockz to date. 
Pro tip: they pass the test of road races that don't allow runners to wear anything in their ears, because technical they are "over the ear."
Plantronics BackBeat Fit
For those that enjoy the bulkier over-the-head-headphones while working out, let us suggest the Plantronics BackBeat FIT 6100. These headphones are made to take a beating like no other.  
And the sound in these babies is no joke. You get theater-like, rich audio all in a sweat proof and water-resistant overhead system. They are designed to be breathable and comfortable with a soft cushioning and to stay on during the hardest rips. They feature a special Awareness Mode, which is the happy medium between noise-cancelling and background listening.
Beats By Dre Flex Wireless Earphones
I bet you didn't think the best cheap workout headphones on this list would come from Beats, did you? These under $50 earbuds bring you the basics. You know you get seamless connectivity and ease of use under the Beats/Apple name, so that's not even a question. 
Additionally, you'll get 12 hours of listening time and a built-in microphone. The sound quality is good, but it won't be audiophile status—but remember you're only spending $49.
Anker Soundcore Spirit X Earphones
We knew we could do better than a $49 price point. So alas, we present Anker's Soundcore Spirit Sports X headphones for your best value at just under $30. Now, let us state the obvious that these headphones are in a different playing field than the high-priced options on this list. But they get the job done, and done well. 
If you're one to frequently lose your headphones or simply can't invest too much right now, you'll find solid sound and comfort in these. The best part about this value is that they are completely water and sweat-proof. Even if you want to keep these in your gym bag at all times for those just-in-case moments, we fully support it. You get up to 18 hours of playtime, a thumping bass, and a customized fit through flexible ear hooks. Sold.
Sony Truly Wireless Sports Noise-Cancelling Headphones
amazon.com
$199.99
$148.00 (26% off)
If you're a minimalist type and really just want a single pair of headphones to take you from work to the gym and off on your travels, look no further. If the household electronics name doesn't sell you, maybe this will.
These are the most versatile on this list, making them a lovely option for your entire day. They come with complete with a built-in microphone, 18 hours of battery life, noise-cancellation features, and Alexa capabilities. Whether you're listening to a podcast, taking a meeting, or getting hot and sweaty in an intense HIIT class, these bad boys will have your back. You can activate any of their features with a single touch sensor. Plus, they have smart listening technology, which automatically adjusts the noise with your environment.
Bose SoundLink Around Ear Wireless Headphones II
amazon.com
$229.00
$159.00 (31% off)
Bose might be getting a lot of love on this list, but that's because they have an audio system like no other. This version is a set of over-ear wireless headphones that can do it all. With it seamless bluetooth connectivity for audio and video, it also allows you to stay connected to 2 devices simultaneously. You can also take calls with them on, thanks to its advanced microphone system and HD voice technology to make sure your sound is clear in the noisiest conditions. Plus, they have up to 15 hours of battery life.
Vanessa Powell
Vanessa is an established editor, stylist and shopping expert covering all things style, gear and wellness.
This content is created and maintained by a third party, and imported onto this page to help users provide their email addresses. You may be able to find more information about this and similar content at piano.io