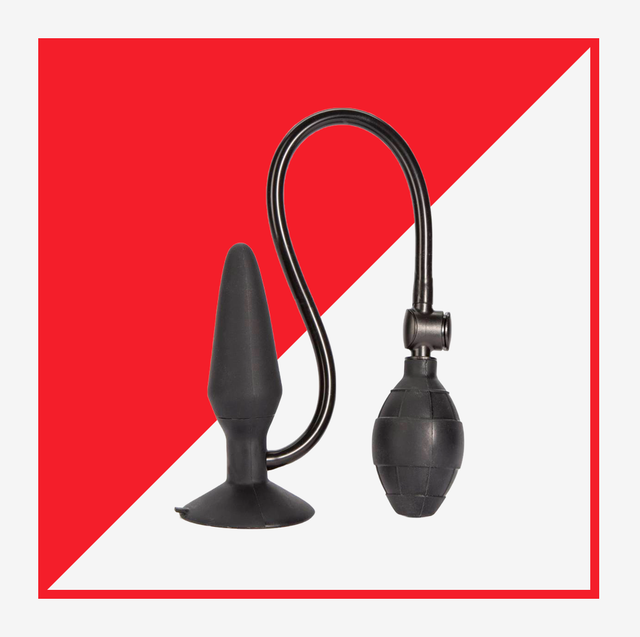 Lovehoney/OxBalls
Sex toys don't discriminate; they're made for anyone and everyone who wants them. That's why no type of sex toy or butt plug is inherently "gay."

Nevertheless, gay culture—including gay sex culture—is indeed a thing. That's why there are certain sex toys that appeal more to gay, bi, and queer men than straight guys. For example, a queer man might be more likely to buy a Fleshlight shaped like a male porn star's butt than of a female porn star's vulva. He may be more likely to buy an XXL butt plug to help stretch things out down there, or a double-edged dildo in case the guy he brings home happens to be a bottom, too. There are even brands out there making awesome sex toys with gay men specifically in mind. These companies include OxBalls and Mr. S Leather—you'll notice I included many of their products on this list.
So, without further ado, here are 30 sex toys for gay, bi, and queer men. You'll notice I start with more basic sex toys and gradually progress to more advanced and niche items, like anal hooks (for all the BDSM fans out there). Regardless of whether you identify as straight, bisexual, fluid, gay, queer, or something else on the LGBTQ+ spectrum, these sex toys can be extremely pleasurable if you have a penis, butthole, and/or prostate. Use them with a partner or during your next solo session!
1
Stainless Steel Donut Cock Ring
DOMINIX
lovehoney.com
$29.99
A staple in every queer man's bedroom is a stainless steel cock ring. Pro tip: Don't get cocky (pun intended) with sizing. Odds are you're a small or medium, not a large, buddy boy. 
2
Eternity Ring
New York Toy Collective
newyorktoycollective.com
$13.95
The Eternity cock and ball tugger offers two rings in one for a hug around your whole package and a tug around your balls. This bad boy can definitely help you stay erect and last longer.
3
Vibrating Butt Plug 3.5 Inch
Lovehoney
lovehoney.com
$17.49
The "Butt Tingler" from Lovehoney is about as standard as a vibrating butt plug can be. It's made from silicone and is 3.5 inches in length making it ideal for beginners. 
4
Butt Plug Training Kit
Mr. S Leather
mr-s-leather.com
$64.95
Start small and work your way up to medium and large with this 100% silicone butt plug training kit. It consists of three smooth silicone butt plugs in different sizes. Each has a flexible shaft that has small ridges to stimulate where you are most sensitive.
5
Milan Christopher Fleshlight
Fleshlight
fleshlight.com
$79.95
I just linked to Christopher Milan's Fleshlight because I think he's fine AF, but if you peruse the Fleshlight site, there are plenty of  other male models and porn stars to choose from, including Diego Sans, Allen King, and more. 
6
Luxury Rechargeable Male Vibrator
7
Hugo Prostate Massager
I love this toy. (You can read my full review of it here!) You control the speed and intensity of the vibrations by tilting the remote control. It also stimulates your perineum (a.k.a. your taint or grundle) along with your prostate. 
8
Neoprene Quick Restraints
Mr. S Leather
mr-s-leather.com
$36.95
These are cheap and easy cuffs for when you only have 30 minutes to restrain and plow that guy from Scruff. 
9
Padded Locking Wrist Restraints
Mr. S Leather
mr-s-leather.com
$139.95
These are the big boy version. The Daddy version. Cuffs made from real leather if you got coins to spare. 
10
Vibrating Rimming Butt Plug
b-Vibe
lovehoney.com
$144.99
b-Vibe's amazing butt plugs simulate the feeling of getting a rim job (a.k.a. analingus). It's like, who even needs a boyfriend anymore?  
11
Duke Vibrating Prostate Massager
Fun Factory
lovehoney.com
$99.99
This toy stimulates your rectum, prostate, and perineum. It really gets up in there. With the Duke, you might have orgasms so intense, you'll hear "Rain on Me" and see rainbows instead of stars.
12
Spiral Glass Dildo 7 Inch
Icicles Glass Sex Toys
lovehoney.com
$36.99
I love me a glass dildo. (Don't worry, there's no way for it to shatter while in use.) Pro tip: Put it in the freezer to make it cold—you'll experience brand-new sensations!
13
Inflatable Butt Plug 6.5 Inch
Cal Exotics
lovehoney.com
$34.99
You want to feel full? Like really full? Then I'd recommend this inflatable butt plug. (Read my full review of it here!)
14
Classic Silicone Anal Beads 10 Inch
Lovehoney
lovehoney.com
$16.99
15
Cinco Anal Beads
Up your anal bead game with this vibrating option.
16
Deuce Male Harness
SpareParts Hardwear
organicloven.com
$139.95
This invention is actually genius. A strap-on specifically designed for people with a penis, it comes with a second hole to put your junk through. So, if you start losing your erection, you can keep the penetration going with the strap-on. Not to mention that you can DP all by yourself now… 
17
Silicone Puppy Tail Butt Plug
Oxballs
oxballs.com
$79.00
If you're into pup play, then you need to have a puppy tail. (It's a butt plug that has a tail sticking it out of it.) And tie dye is apparently back in style!
18
Spike Neoprene Puppy Hood
extremerestraints.com
$59.95
And of course, you can't just have the tail. You need to have the pup mask, too. This neoprene puppy hood is more breathable than some of the other leather pup masks out there.
19
Cocksling
Oxballs
oxballs.com
$24.50
Oxballs are your go-to for more advanced cock rings. In addition to squeezing your shaft, this cocksling stretches your testicles down and away from you.
20
Snug Plug 6
The snug plugs are weighted butt plugs, and they come in six sizes. The fifth and sixth sizes are absolutely huge, only for anal pros. The snug plug 6 weights 1.13 pounds and is roughly the girth of my forearm. If you're looking for a full feeling, look no damn further.
21
Cocksling with Ball Splitter
Oxballs
oxballs.com
$26.00
Some guys love having their testes pulled and separated. If you're into that kinda thing, then check out this cocksling from Oxballs.
22
Motorbunny Original
Motorbunnyt
motorbunny.com
$999.00
If you're a big old bottom, and you want to get your world rocked, then you need to get a Motorbunny. Obviously, it's not cheap, but once you sit on it and and experience the incredibly powerful vibrations, you'll stop looking for a man. 
23
Unicorn Rainbow Bondage Rope
Emojibator
emojibator.com
$35.00
If you or your partner is into Shibari (Japanese rope bondage), and you want to make it gayer, then you obviously need to get this rainbow BDSM rope. 
24
One-Fit Elastic Ball Stretcher
Extreme Restraints
extremerestraints.com
$7.95
If you just like your testicles tugged during sex, but don't want a cock ring with it, then you can try an elastic ball stretcher, like this one. 
25
Full Size ProGrip Flogger
Mr. S Leather
mr-s-leather.com
$104.95
SPANK ME DADDY. (But actually, if you do use a flogger, please learn what you're doing. You can hurt someone if you whip wrong. Here's an article on how to flog properly.) 
26
Chastity Cage
Mr. S Leather
mr-s-leather.com
$54.95
If you're into being a good little sub whose sole purpose is to satisfy Daddy, you can put on this chastity cage.  
27
Deluxe Ball Gag
Mr. S Leather
mr-s-leather.com
$59.95
If submission is your thing, you can also have a ball gag in your mouth. I like these options from Mr. S Leather, but you can also head here for more great ball gag options. 
28
Buddy Expander Double Header
Mr. S Leather
mr-s-leather.com
$84.95
First off, love the name of this toy. This double-edged dildo is great when you two get home and realize that you were both lying when you said you were vers. Instead of bumping purses, stick the Buddy Expander Double Header into your booties and then bump uglies. 
29
Anal Hook with Collar
NaughtyBrit
etsy.com
$824.41
Anal hooks are great for couples who love playing with power dynamics. One end goes around your neck. The other goes…you know where. An anal hook forces the bottom to stay in a certain position—if you try to move, you will be in pain.
This content is created and maintained by a third party, and imported onto this page to help users provide their email addresses. You may be able to find more information about this and similar content at piano.io