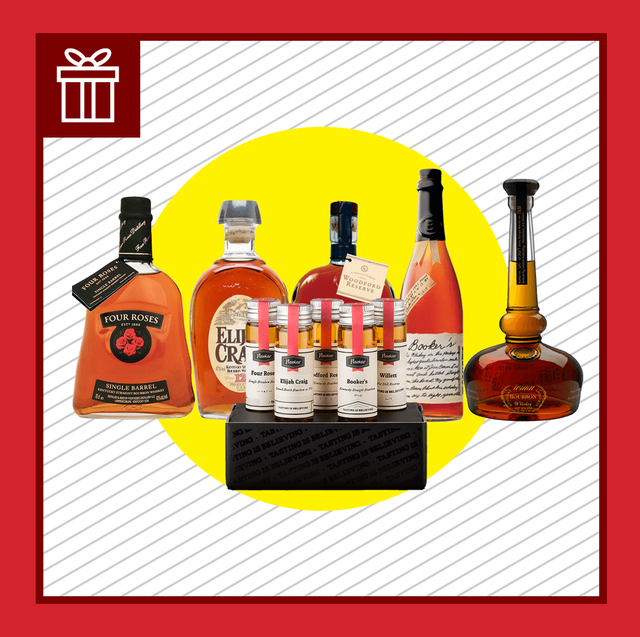 Assorted retailers
Mark Twain once wrote, "Too much of anything is bad, but too much good whiskey is barely enough." It's a sentiment that will resonate with any true aficionado of the distilled alcoholic beverage made from fermented grain mash.
To the whiskey superfan, it's not just a drink, but a whole world to explore filled with rich history, a wide variety of styles and expressions, and a seemingly endless array of gadgets and tchotchkes to elevate each sip. It's a phenomenon that's truly international, transporting your palate to Scotland, Ireland, Kentucky, Japan, and beyond. Much like any great hobby, whiskey appreciation is much more about the journey than the destination and the proper accoutrement helps you get there. The spirit's revered status amongst both amateur and experienced imbibers means whiskey—and its accompanying glassware, books, decor, and even board games—often makes for a memorable gift.
However, it can also be overwhelming to find the perfect gift for the whiskey lover in your life, which means it's easy to panic and pick out a lame flask or a mediocre scotch.
Don't fret—We've sifted through the many, many options to bring you this definitive guide of the best whiskey gifts you can give your friends, family, or even yourself. Whether you're looking for unusual whiskey gifts, versatile whiskey gift sets, or quality single malts, bourbons, and other great bottles, you've come to the right place.
Sláinte! Let's get gifting.
1 of 50
Williams-Sonoma Whiskey Lovers Set
williams-sonoma.com
$99.95
Properly chilling whiskey without diluting its flavor or character is an art form. This attractive, sleek whiskey gift set is great for any whiskey drinker looking to level up their rocks game.
2 of 50
Duke Cannon Men's Bourbon Trail Solid Cologne
This little travel-ready tin slips easily into carry-on bags, briefcases, dopp kits, gym bags, or desk drawers. Plus, it's got a hint of Buffalo Trace, carrying a scent than any seasoned whiskey drinker will recognize. If you're looking for an easy whiskey gift on Amazon, this is one of our favorites. 
3 of 50
Oak & Bond Coffee Co. Bourbon Barrel Aged Coffee
Combine rich chocolate, caramel, and Mandarin orange coffee notes with the sweet oak of aged bourbon barrels and you end up a robust, satisfying cup of coffee. The premium packaging makes this coffee exquisite for gifting purposes.
4 of 50
Ancient Rocks Prehistoric Whiskey Stones
The best bourbons and scotches are monuments to patience, aged for years and sometimes decades until they're ready to be consumed. So it only figures that you should use whiskey stones that are 940 million years old. Yup, these nonporous, metamorphic rocks were formed during the genesis of the American continent, and now they serve a specific, noble purpose: chilling your whiskey drink.
5 of 50
Death & Co: Modern Classic Cocktails
Death & Co. opened in 2006 in Manhattan's East Village and quickly placed its stamp on the craft cocktail scene, spawning countless imitators and pushing the envelope with innovative creations. For the aspiring mixologist, this book offers over 500 recipes to challenge and inspire. For the novice, it's a beautiful coffee table book that's sure to spawn conversation (and maybe push you to step things up a bit from "bourbon and ginger ale" the next time you're having a home happy hour).
6 of 50
GSI Outdoors Highland Fifth Flask
If you're trying to hit the trail with some hooch, but you don't want to lug around the extra weight of a glass bottle, this ultralight bladder is a great option. The pour-assist handle is optimal for sharing with friends after (or maybe during) a long walk in the woods. It's definitely an unusual whiskey gift anyone would be excited to receive. 
7 of 50
Best Whiskey Gift Under $50
UNCORKED! Games Whiskey Business!
There are drinking games and then there are UNCORKED! Games drinking games. In this strategic dice game, you compete against other distillers to produce the most Irish Whiskey, Scotch, Bourbon, and Rye before Last Call. And while you're not required to drink whiskey while you play, imbibing is more than encouraged.
8 of 50
Bespoke Post Cask & Bottling Whiskey Kit
This one might seem like an unsual whiskey gift, but this top-rated whiskey barrel does the job of aging your favorite spirit and comes with a bottling kit and hands-on instructions to help you make the most of this one-liter container. 
9 of 50
Whiskey Barrel Wood Smoked Cocktail Gift Set
Looking to upgrade your whiskey cocktail experience? Try an at-home kit like this one, which brings out smoky notes of oak thanks to whiskey barrel wood and an easy-to-use mini culinary torch.
10 of 50
Whiskey Appreciation Crate Gift Set
It's easy to fall into overthinking when you're trying to track down the perfect gift. Nip that in bud by picking up a Man Crate, which offers a veritable smorgasbord of fun, personalizable things for the whiskey lover, conveniently packed together in a box.
11 of 50
Maker's Mark Bourbon Wax Dipped Snifter Glasses
Many great whiskies have a visual signature, but there are few bottles as the red wax-laden Maker's Mark. This whiskey glasses set is a great alternative to typical barware that show you understand the significance of good bourbon.
12 of 50
Best Whiskey Gift Under $75
Bourbon Nosing Kit
When people say whiskey is an acquired taste, what they mean to say is there's a lot of nuance that inexperienced drinkers won't be able to fully understand on their first swig. You may not be able to pick up on notes of clove, caramel, or cinnamon, but nosing kits can help amplify those aromas and train you to appreciate the finer points of sipping whiskey. And while many nosing kits go for hundreds of dollars, this one comes with a ton of rave reviews at a fraction of the typical price.
13 of 50
Aberfeldy 18 Year Old Limited Edition
Time is of the essence when it comes to enjoyable single malts, and this golden burgundy expression from the foothills Central Highlands of Scotland spends 18 years aging in casks before its ready to be consumed by the public. It's finished in French Wine Casks from Pauillac, Bordeaux and provides rich, creamy vanilla notes, in combination with a fruity, blackberry finish.
14 of 50
Decanter Set With Whiskey Stones Gift Set
Decanter sets can get a little intense in both the price and size departments, so I'm drawn to this affordable, unpretentious whiskey stone gift set that gives you all the basics for starting a home whiskey bar.  
15 of 50
Cirrus Ice Ball Press Kit
williams-sonoma.com
$974.95
Fancy, huh? Spherical ice cubes melt slowly and evenly, which is one of the reasons they've increasingly become the ice cubes of choice for many top bartenders. This kit makes for a great gift for the whiskey love in your life as a high-end addition to any home bar.
16 of 50
Best Whiskey Gift Under $100
Wilderness Navigation Flask
Think that whiskey is best enjoyed in some cigar smoke-filled drawing room with an ornate fireplace and crystal chandeliers? Think again. Whiskey is an excellent companion to an outdoor adventure and this five-in-one vessel delivers everything you need for a camping trip to remember: a compass, a flashlight, two shot glasses, a bottle opener, and a flask.
17 of 50
Best Whiskey Gift Under $25
TW&P Design Hot Toddy Carry on Cocktail Kit
You don't need to fly first class to enjoy an exceptional Hot Toddy at 30,000 feet. This neat kit is made specifically to slip into your carry-on bag. All you need is an airplane bottle (or two) of your favorite whiskey and you're flying high on Hot Toddy vibes.
18 of 50
NOS'R Insulated Nosing Glass
You have no shortage of options when it comes to insulated glasses for outdoor, portable drinking. But this model from BruMate is engineered specifically with scotch, bourbon, or whiskey in mind, giving it the edge over other more generalized (and—let's be honest—expensive) on-the-go drinkware.
19 of 50
Jack Daniel's Whiskey Barrel Smoking Oak Wood Chips Set
The distinctive flavor of whiskey makes other things taste better, especially when it comes to BBQ. These smoking oak wood chips are made with Jack Daniel's Old No. 7 Brand whiskey barrels and are a tantalizingly simple way to elevate a rack of ribs, wings, brisket, or other grilling favorites. 
20 of 50
Whiskey Math Cocktail Recipe Screen Print
Mixologists laud whiskey's versatility, featuring in a wide variety cocktails, from bold and boozy to mild and sweet and everything in between. This silk-screened poster featuring a number of the most popular whiskey creations is an infographic that's not only useful, but nice on the eyes, too.
21 of 50
Starward Nova Australian Single Malt Whisky
You'll be surprised and delighted by this single malt from Down Under. It's made with red wine barrels, which gives the Nova a distinctly Australian red flavor profile that's distinctive from many other single malts on the market, but not too funky to be a gimmick.
22 of 50
Best Whiskey Gift Under $200
Stone Drink Dispenser
uncommongoods.com
$150.00
You'll find no shortage of drink dispensers online, but few are as funky and fun as this geologic-style cobbled sculptural granite model from Jeff Henderson. Plus, what better way to pour drinks on the rocks than with drinks from a rock.
23 of 50
Whiskey Barrel Wall Clock
I love decor with a story behind it and this rustic wooden wall clock seems like a prime conversation-starter. It's made with genuine aged bourbon barrels and can be customized to include the name of your favorite distiller, or be left blank for a more minimalist look.
24 of 50
Scotch-Infused Toothpicks Gift Set
You either love scotch or don't really get it. As someone in the former camp, I'm intrigued by the novelty of these whisky picks, which promise a subtle hint of barrel-aged, Islay single malt flavor without needing to fill up a rocks glass.
25 of 50
Rabbit Freezable Whiskey Glasses
williams-sonoma.com
$24.95
You don't necessarily need ice cubes to make a cool, crisp whiskey cocktail. Toss these glasses in the freezer for a few hours, take them out, and pour in your dram of choice for icy refreshment sans ice.
26 of 50
Personalized Oak Whiskey Barrel
While you can certainly pick up a bottle in the whiskey section of your local liquor store and crack it open that night, whiskey fans have a lot of experience with delayed gratification. If you're looking to properly age your booze, an authentic oak barrel is ideal—and this one in particular gets rave reviews online. Also, you can personalize it with your drinking buddy's name, which adds an extra special touch to an already super-cool gift.
27 of 50
Whiskey Barrel Watch
uncommongoods.com
$249.00
Some of the best whiskey gifts are the most understated. At first, this just looks like a nice watch. But whiskey lovers—true appreciators of craftsmanship—will dig this wearable art that's made from retired whiskey barrels.
28 of 50
Slane Irish Whiskey
Slane Castle has been home to some of the most legendary live concerts in Irish history, hosting everyone from U2 to Bruce Springsteen to David Bowie. A few years ago, the Conyngham family, stewards of the castle, opened a distillery on the castle grounds and began to produce Irish whiskey in collaboration with Brown-Forman. This triple-casked blended whiskey is one of the most drinkable, smoothest bottles you can buy, especially given its affordable price point.
29 of 50
The Wine Savant Old Fashioned Car Whiskey Decanter Set
Lovers of whiskey and classic cars share at least one thing in common: they can fully appreciate that the way something is made is of the utmost importance. Ever gone through a drawer or cabinet in your house and been like, "Who gave me all these candles?" Well, you'll never forget who gave you an old fashioned car decanter. Yes, it's bold, but it's a gift that makes an impression.
30 of 50
Flaviar Club Membership
FLAVIAR.COM
BUY IT HERE
Whiskey subscriptions are the gifts that keep on giving. Flaviar members get a quarterly tasting box and quarterly full bottle of hand-picked whiskey, with an emphasis on discovery and spirits appreciation.
Advertisement – Continue Reading Below
This content is created and maintained by a third party, and imported onto this page to help users provide their email addresses. You may be able to find more information about this and similar content at piano.io