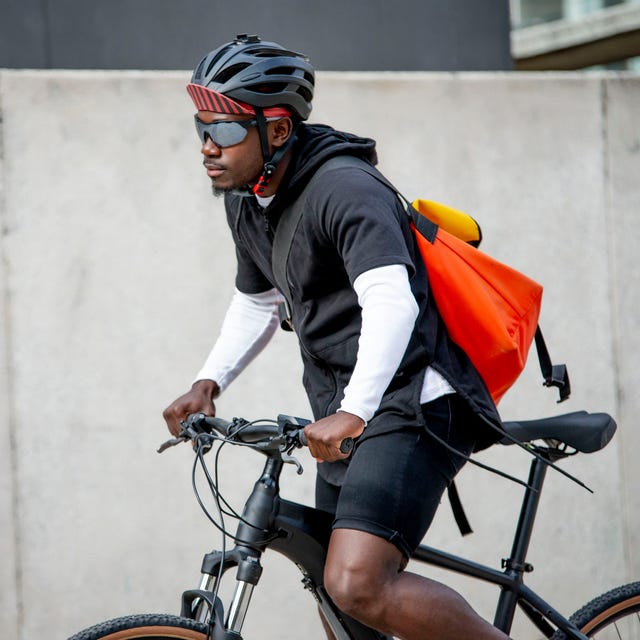 Westend61Getty Images
If you're looking for a low-impact cardio workout, cycling is it. Of course, during the pandemic, indoor cycling had a boom thanks to Peloton and virtual races. (Here are 6 high-tech Peloton alternatives for at-home spin workouts.) But whether you're into at-home spin workouts, hitting the trails for some mountain biking, or you prefer sticking to the road, the opportunities are endless with cycling to get in the best shape of your life.
This 75-year-old beat diabetes thanks to cycling. It helped this guy finally get off of blood medication. And this guy lost 75 pounds thanks to cycling and triathlon training. And this drummer lost a whopping 460 pounds through diet and cycling. (Looking for a new pair of cycling shoes? Here are 5 of our recs.)
And having the right pair of cycling shorts will make any ride better. Whether you prefer a little padding, extra storage space, or a specific moisture-wicking material, being outfitted with a proper pair of shorts will make your ride much more comfortable. The key: the chamois, a pad designed to prevent your bottom from injury as your spend a long time on the saddle. You can also opt for a full bib, which uses shoulder straps for some extra support. Need help determining which works for you? Take some advice from Men's Health health director and USA-Triathlon-Certified coach Marty Munson.
"There's no clear winner in the bibs v. shorts debate, because each has its pros and cons," Munson says. "Bibs are more comfortable around your waist area, but they're more complicated when nature calls (gotta take off the jersey to deal). It's all about what's more important to you. If you're going to be doing a triathlon, you need tri shorts—their thinner padding lets water from the swim drain faster and makes them possible to run in. But get them long before your tri. Riding long distances on little padding might take some getting used to."
Picking the right fit for you will be all about comfort—and some trial and error. "Investigate what keeps the shorts from riding up your legs," Munson advises. "Shorts usually have some kind of leg gripper on the inside of the shorts. Some of the thinner leg grip bands give you a sausage-link look if your legs are on the generous side. Wide bands at the bottom of the shorts may work better for you."
With that guidance in mind, check out these 15 pairs of bike shorts and bibs before your next ride.
3D Padded Bicycle Quick-Dry Pants
Another budget option, these inexpensive shorts can still get the job done. Gel padding will keep your bottom comfortable, while a silicone leg particle gripper will prevent your shorts from sagging.
Padded Cycling Shorts
This Amazon best-seller might not have some of the qualities the more expensive options will offer, but over a thousand positive reviews prove that they can get the job done for beginners and hobby riders. The six-panel design is made of moisture-wicking breathable material, and there's 3D gel padding in "key areas" for comfort. 
Fox Racing Men's Standard Ranger Short
Fox Racing
amazon.com
$89.95
Mountain bikers need shorts too. Some of the best come from Fox, whose Ranger model features stretch Ripstop fabric and an adjustable waist.

Hummvee Baggy Cycling Short
These durable mountain shorts from Endura have both zipped air vents and zipper pockets for extra storage. The seat pad can also be removed.
The Black Bibs
This award-winning bib (Bicycling named it their Gear of the Year in 2019) performs well and costs significantly less than comparable gear. The no-frills design uses lycra compression and mesh for the shoulder straps, with a thin dual-density chamois for comfort and support.
Evolution Zap Bike Shorts
Sugoi
competitivecyclist.com
$120.00
If you ride in the morning or evening, the reflective leg bands of these high-visibility shorts will make you stand out on the road. The 8-panel shorts use a 3D constructed standard chamois to keep your butt comfortable, with silicon leg grippers to keep the fit snug without being too restrictive.  
Ether Bike Shorts and Liner
Zoic
competitivecyclist.com
$65.00
If you're not an all compression everything guy, there are still options for you. This pair of shorts has a 2-in-1 design, with a removable liner—with a built in chamois, of course—with plenty of zipper pockets and other storage for cyclists who are just as concerned with practical functionality as they are about performance. 
Fit Sensor 2
Louis Garneau
competitivecyclist.com
$80.00
These shorts are made of moisture-wicking material that the company claims can help your thermoregulation, with an antibacterial memory foam chamois. Powerband cuffs on the bottom keep the shorts in position, while night riders will appreciate the reflective accents in the design. 
Cento Short
Castelli
competitivecyclist.com
$70.00
If you're looking for a better fit than the standard spandex shorts, these might be the ones for you. They're built using the brand's Fondo Fit, which leaves some extra space for your quads, along with a slightly longer inseam. 
Elite Escape Shorts
Pearl iZUMi
amazon.com
Pearl Izumi's shorts are made for a smooth ride, with specialized fabric in selected panels for enhanced moisture transfer. The  chamois, made from four-way stretch material, is designed to keep your skin dry.
Elite Escape Bib Shorts
Pearl iZUMi
amazon.com
This bib takes everything that makes the shorts above worth a ride, adding an upper for those who prefer the top support. The upper is mesh to keep the top comfy, too. 
Przewalski Cycling Bib Shorts
Przewalski
amazon.com
$37.99
This highly-reviewed budget bib features 4D molded construction and multiple pads for comfort, along with an ergonomic, high density foam chamois.
CB Carbon 2 Padded Bib Shorts
Louis Garneau
competitivecyclist.com
$150.00
This high-tech bib is fit for high mileage rides, with an ergonomic fit and compressive fabric that aims to increase blood flow. The brand claims the Aero Lazer band at the thigh also improves aerodynamics and muscle support.
Alo Yoga 9" Warrior Compression Short
Alo Yoga
aloyoga.com
$68.00
Think of these as bike-style shorts, rather than true padded gear for long rides. Alo's compression shorts can go from short distances on the bike to cross-training thanks to their flat-seam construction with a full gusset panel for ease of movement. They also have an adjustable drawcord waistband for a customized fit.

Lululemon Vital Drive Train Half Tight 10
Lululemon
lululemon.com
$88.00
Another pair made with cross-training or spin in mind rather than serious cycling, these Lululemon shorts are made of a Lycra material that has interior gripping engineered to promote joint and muscle support. They also have side drop-in pockets for extra storage.

This content is created and maintained by a third party, and imported onto this page to help users provide their email addresses. You may be able to find more information about this and similar content at piano.io