When was the last time you took a walk in someone else's shoes? That old saying is typically used to implore someone to shift their perspective in order to build empathy. But, taking on the trappings of an unfamiliar lifestyle can be helpful for other purposes, too. I embraced this philosophy (and a bold new workout plan) to shake up my physical training and achieve a new goal. Instead of just taking a few steps in someone else's shoes, I tried to run. Fast.
The inspiration for my out-of-personality experience was to run a mile as fast as possible. While I usually include running as part of my weekly fitness plan, the bulk of my training as a fitness editor for Men's Health is in a gym setting, with a focus on strength and conditioning.
When I run, it's either to sprint for conditioning or to train for long road races like marathons. Single miles? Usually, I'm only traveling those 5,280 feet at a more relaxed pace. The last time I ran just one mile for speed was my senior year of college as a decathlete on the track team (and the race was actually a 1500 meter run, just under a mile). I didn't train particularly hard, instead I focused on my stronger suits like throws, jumps, and sprints—all of which are more focused on bursts of strength and speed. Needless to say, I did not win that race.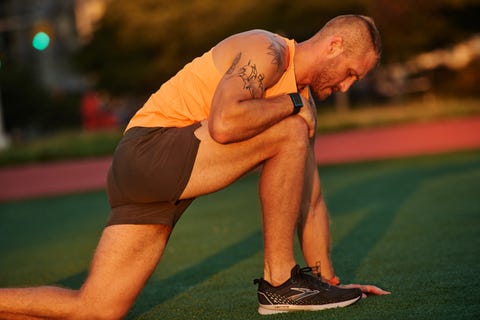 Jeff Allen Studios Inc.
To set a new PR and actually finish at top speed (I aimed for a sub-5 mile), I knew I needed some help. I linked up with Runner's World features editor (and nine-time marathoner) Matt Allyn for some training prep advice. We traded our expertise so that we might both level up—he gave me a detailed mile race training plan, and I gave him tips to boost his bench press. The final key to my mile dreams was the right pair of running sneakers.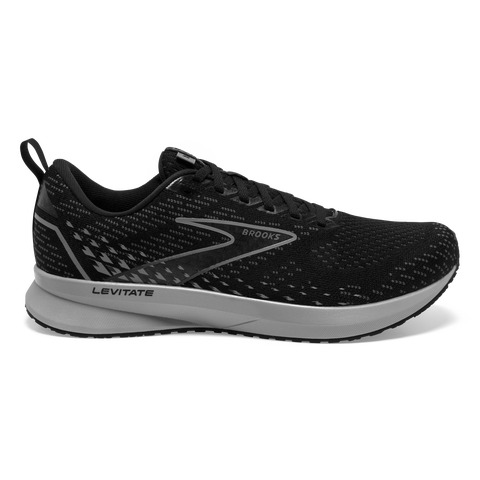 Levitate 5
BROOKSRUNNING.COM
$150.00
Thankfully, with some help from Brooks, I got my feet into a new pair of Levitate 5, the latest in one of my favorite lines of performance shoes. The Levitate 5 features the company's specialized DNA AMP cushioning, which provides a springy, quick-transition experience for runs. They're comfortable enough that I didn't only want to wear them when I train, but fast enough that I felt like I had a secret weapon to take on a new PR.

Four Weeks to Focus
In the lead-up to the big run, I stuck to the plan as closely as I could. There were a few days I missed and I substituted some of the sessions for other running workouts. But I was dialed in. I felt great taking steps toward the ultimate goal of the fastest possible mile. I haven't been able to max out with weights or test myself in many other meaningful ways since my last road race pre-pandemic, so I was determined to make this attempt count.
On race day, the forecast was for heat—we're talking a heat index of 106℉. I guzzled plenty of water the day before to get hydrated. Thankfully, I was able to wake up and hit Brooklyn's McCarren Park at 5: 45 a.m. to start before the scorching sun reached its peak. After an extensive warm-up on the track and infield area, I was ready to run.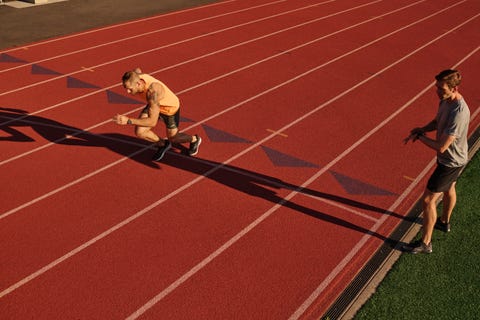 Jeff Allen Studios Inc.
Matt graciously agreed to help time me and call out splits (how much time had elapsed thus far) for each of the four laps around the track. We talked for a brief minute to strategize, and I toed the line. After a brief countdown, I was off, timing the race on my own watch, too.

Setting the Pace
I got into the zone once I started running. I had decided to run alone without headphones for the first time in a long while and willed myself to fall into my own rhythm, depending on my footfalls and the springy response of the Levitate 5 sneaker to set the pace. The first lap felt great, and I crossed the line below my target pace, at around 72 seconds. (I was on a public track, so there were moments I had to weave around walkers and joggers, and constantly had to keep my head on a swivel in case one of the soccer balls being booted around the turf made its way onto the track.) But between laps 2 and 3, there was no drama as I pumped my legs and fought to keep pace against the already formidable heat.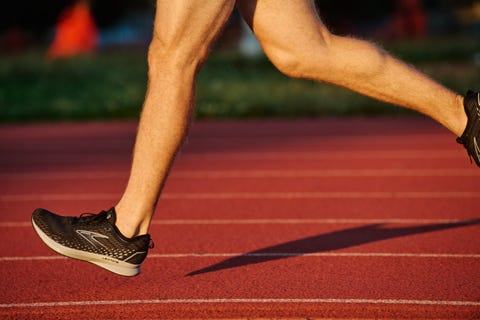 Jeff Allen Studios Inc.
When I got to the fourth and final lap, I knew it was time to push. I was lagging, but my training kicked in and I kept striding forward (having a pair of light, springy shoes definitely helped me out at this point, too). I hit the final 200 meters and knew it was now or never. I kicked hard, running fast and strong through the last part of the run.
I missed out on my ultimate goal of running under 5 minutes, but my 5: 30 time was still a fast new PR. Given the challenges with the heat and busy track, I was happy with my performance. But the best part of the whole experience? By the time I crossed the line, I didn't feel like I was running in someone else's shoes. That race was my own.
Brett Williams, NASM
Brett Williams, a fitness editor at Men's Health, is a NASM-CPT certified trainer and former pro football player and tech reporter who splits his workout time between strength and conditioning training, martial arts, and running.
This content is created and maintained by a third party, and imported onto this page to help users provide their email addresses. You may be able to find more information about this and similar content at piano.io
Advertisement – Continue Reading Below