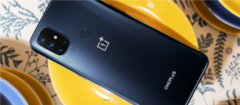 The Nord N100 and N10 5G are OnePlus' foray into the low- and mid-tiers of the smartphone market. Despite this, it has yet to be released in all the regions where the OEM is active. A new leak hints they might be destined for a new launch in India, however.
OnePlus launched the Nord N10 5G and N100 in early 2021, hyped as a return to the OEM's affordable roots. They have been released to the US and European markets thus far, at the ~US$300 and ~$200 price-points respectively. Now, a new tip suggests that their next region might be India.
It comes in the form of an automated Telegram-based tracker that apparently reports updates to OxygenOS, OnePlus' popular Android skin. It reportedly shows that the latest upgrades for the Nord N10 and N100 have acquired versions for the Indian region for the first time.
The builds apparently have March 2021 security patches and contain various stability fixes. This might indicate that the 2 devices are getting SKUs specific to that market. Their putative launch might strike some as a little late, however, as additional leaks point to a next generation for the N10 5G already
Buy the Nord N10 5G on Amazon
Top 10 Laptops
Multimedia, Budget Multimedia, Gaming, Budget Gaming, Lightweight Gaming, Business, Budget Office, Workstation, Subnotebooks, Ultrabooks, Chromebooks
under 300 USD/Euros, under 500 USD/Euros, 1.000 USD/Euros
Best Displays, for University Students

Top 10 Smartphones
Smartphones, Phablets, ≤5-inch, Camera SmartphonesThe Best Smartphones for Less Than 160 Euros

Deirdre O'Donnell, 2021-04-30 (Update: 2021-04-30)